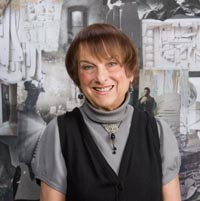 Edee Joppich received a Bachelor of Fine Art degree from Marygrove College in Detroit, followed by graduate studies at Wayne State University in Detroit. For five decades she has shared her gifts with others through her paintings, teaching, jurying and mentoring aspiring artists of all ages. Edee has completed 100 paintings since the start of the pandemic in 2020.
exhibits
Art councils, museums, universities and professional galleries have hosted her 49 one woman shows, including the Michigan Womens Hall of Fame, the Bendix Corp. National Headquarters and the Detroit Council for the Arts. Edee's paintings have been shown in 200 regional, national and international exhibits, including the Butler Institute of American Art in Salem Ohio, the Santa Cruz Art Museum in California, the Huntsville Museum of Art in Alabama, The University of Texas gallery in Fort Worth, the Montana Art Museum, and in an international exchange of experimental artists exhibition in Cardiff, Wales.
awards & honors
Edee has recevied awards and honors including a Master Fellowship in the International Society of Experimental Artists, a Signature membership in the National Collage Society, an Artist in Residency from the city of Farmington Hills, Michigan, sponsored by the City Arts Council and the Michigan Council for the Arts. In 2005 she was named a Distinguished Alumni of Marygrove College, her alma mater. She has recevied awards in exhibits nationwide.
publications
Ten art books distributed nationally and internationally with Edee's paintings, including:
"Journeys To Abstraction: 100 Contemporary Paintings", Sue St. John (North Light Books, 2012)
"The Artistic Touch 5", Chris Unwin (North Light Books, 2012)
juries
Jurying exhibits is a challenge Edee loves. Some of the 190 shows she has judged are the International Society of Experimental Artists 19th Annual in Grand Rapids, Michigan, a University of Michigan National Study, the Sioux Ste. Marie Environmental Exhibition in Canada and the Greater Flint Art Council Annual Competition in Flint, Michigan
travel
Painting trips to Italy, France, Belize, the Dutch West Indies, Spain, Mexico, Portugal, Greece and Turkey have provided ideas and inspirations for her collage and watercolor paintings. Over 300 artists accompanied Edee on 13 trips, followed by group exhibits in Michigan galleries of paintings done on location.
gallery
In 1980 Joppich's Bay Street Gallery opened in Northport Michigan. Many of Michigan's finest artists have been invited to show their works there. Edee served as curator, director and Artist in Residence of the gallery, welcoming visitors from the U.S. and from countries around the world. The Gallery recently closed.